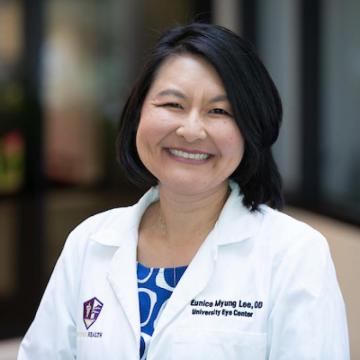 Eunice Lee, OD, FAAO
Education
BA, La Sierra University
OD, SCCO
Residency in Family Practice, University of Houston, Houston, TX
Biography
Dr. Eunice Myung graduated from La Sierra University with a Bachelor of Arts degree in Music and a minor in Chemistry. In 1999, she received her Doctor of Optometry degree from the Southern California College of Optometry (SCCO). She continued on to a residency position in Family Practice, with an emphasis in pediatrics, at the University of Houston, School of Optometry.
Dr. Myung is an Assistant Professor at SCCO and also serves as the coordinator of the pediatric contact lens service. Dr. Myung is also involved in didactic/laboratory instruction in the areas of ocular refraction and cornea and contact lens.
Dr. Myung has been the principal investigator at SCCO for multi-center multipurpose solution studies, and was one of the investigators for The Collaborative Longitudinal Evaluation of Keratoconus (CLEK), which is funded by the National Eye Institute. She is a Fellow of the American Academy of Optometry and a member of the American Optometric Association and the California Optometric Association.